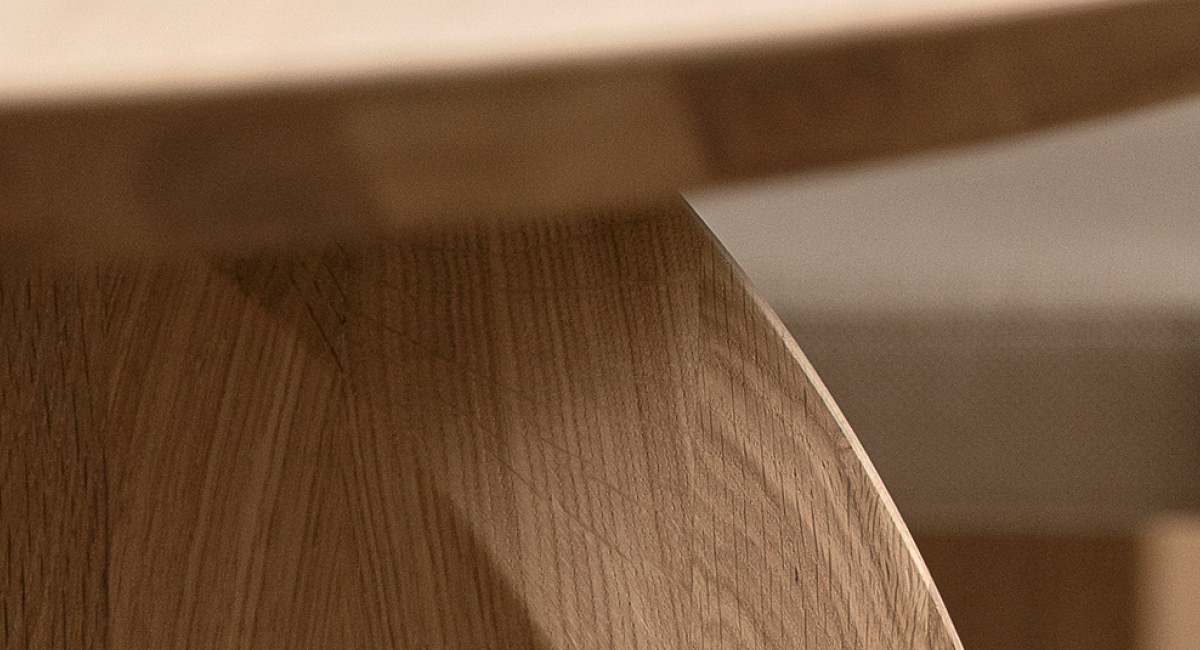 Natural materials

FSC/PEFC certified European oak and walnut
Whenever we can, we work with natural, sustainable materials of the highest quality. We have strict rules when it comes to the quality of our materials. We want to make sure that all furniture will last for years - if not forever. We aim to minimize our impact on the environment too by selecting environment friendly materials, such as walnut wood and oak wood from FSC or PEFC certified European forestry.
Wood is a very sustainable material, because it retains carbon dioxide. Trees take carbon dioxide from the air and store it. When you cut these trees down, the carbon dioxide remains trapped in the wood. In other words, an oak dining table becomes a storage space for CO2.
As trees store CO2 ánd release oxygen, we want to make sure that for every tree we cut down, new trees are planted. That's why we work with FSC or PEFC certified oak and walnut wood, which comes from sustainable forestry. Sustainable forestry ensures that trees are cut down in a way that stimulates the natural growth of the forest. The more trees we plant, the more carbon dioxide is absorbed from the atmosphere and stored.
FSC/PEFC certified Accoya
Accoya is a material we introduced for our outdoor furniture as it is able to endure outdoor weather conditions. This material comes from fast-growing and abundantly available FSC/PEFC certified forests. Accoya is an acetylated wood type; meaning that it undergoes an environmentally friendly treatment to give the material a lifespan of about 50 years (durability class 1).
FSC/PEFC certified Iroko
Iroko hardwood was introduced as a material for our outdoor furniture as it is able to endure outdoor weather conditions. This wood type is grown in FSC/PEFC certified forests in South Africa. The FSC/PEFC certified forests are managed sustainably to ensure there is no long-term loss of forest and that the local community and native wildlife are respected and benefited by the industry. You can discover more details about how this is achieved here. Iroko has a long lifespan of about 25 years (durability class 1-2).
Alternative materials

Living board
We are constantly researching new materials that are sustainable because they have a great lifespan as well as they're environmentally friendly. As such, we have a collection consisting of a dining table and a coffee table which is made of rest materials that we aim to repurpose. "By creating a small sustainable collection, we can investigate how we can improve the entire lifecycle of our furniture collection," says creative director and designer Xander Albers. The furniture is made from Living Board - a sustainable board material made of wood chips and fibres from FSC-certified trees. The collection, like the rest of our furniture, is made to last. If the furniture eventually reaches the end of its lifecycle, it can be recycled. The furniture is 100% recyclable and (almost) 100% biodegradable.

Fenix HPL
If you don't want a wooden table, HPL might just be the perfect alternative. HPL, or High Pressed Laminate, is an innovative material that consists of paper and thermo-hardened resin. HPL is relatively durable, in part thanks to the self-healing properties of the material. HPL dining tables have a long lifespan and can last for years. Unfortunately, HPL does require a lot of paper. MDF HPL dining tables consist of a thin sheet of HPL on a thick layer of MDF. MDF is a board material that consists of pressed wood fibres. The downside of wood fibres, in comparison with solid wood, is that the carbon dioxide doesn't remain stored in the wood. Rather, it is released when the wood is shredded. We are currently working on gaining insight in our CO2 emissions so we can limit our CO2 emissions and compensate the CO2 we do emit.
Steel
As you probably know, we work a lot with steel too. This is a recycled and recyclable material, which means that damaged products that are irreparable can be returned to the factory where the material is used for new pieces. During the production process we never use more steel than necessary, which means there's no residual waste. The powder coating that is used to cover the steel is very environment friendly too, as no harmful substances are released during the coating process. In addition, powder coating is very resistant to scratches and wear.
Fabrics
We love working closely together with partners that care about sustainability too, like Kvadrat. We offer a large selection of fabrics from Kvadrat – all with the European
EU Eco Label
.